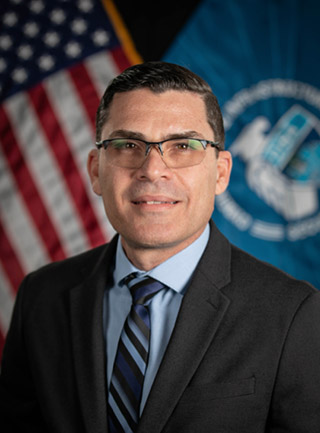 N'gai Oliveras
Cybersecurity Advisor Cybersecurity and Infrastructure Security Agency (CISA) Department of Homeland Security (DHS)
N'gai Oliveras is a Department of Homeland Security Cybersecurity Advisor (CSA) assigned to Puerto Rico and the USVI. He serves as a cybersecurity subject matter expert and is the link between State, local, tribal, and territorial organizations and DHS infrastructure mission partners.
N'gai was the Chief Information Security Officer of the Government of Puerto Rico and was responsible of the design and implementation of the first Cybersecurity Program and the Security Operations Center (SOC) for all the agencies under the executive branch of the Government of Puerto Rico.
Previously, he served as the IT Director for the Office of the Comptroller of Puerto Rico and was responsible for the restructuring of the IT Department including the implementation of the ITSM methodology.
He has more than 20 years of experience with very strong skills in Cybersecurity, Digital Forensics, IT Management, ITSM, IT Operations, Data Centers, Infrastructure Management (Physical/Virtual), Cloud Infrastructures, Disaster Recovery, Business Continuity and Risk Management.
N'gai previously IT experiences includes pharmaceutical, military and state government. He holds several certifications including MCP, Azure Fundamentals, CEH, ITILv3 and QualysGuard Certified Professional.