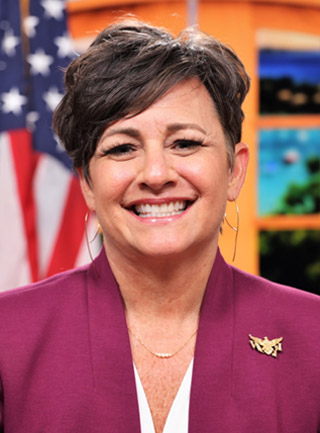 Kimberley Causey-Gomez, MSW
Commissioner, VI Department of Human Services
Appointed by Governor Albert Bryan, Jr, Governor of the United States of the Virgin Islands, Kimberley Causey-Gomez rejoined the Virgin Islands Department of Human Services (DHS) as the Commissioner on April 23, 2019. She is a Certified Social Worker and brings over thirty (30) years of volunteer and specialized professional expertise to the department.
Ms. Causey-Gomez has always had a desire for facilitating clients to reach their highest potential and become self-sufficient in their life's path, leading her to a career in Social Work. Throughout her Virgin Islands and Stateside career, Ms. Causey-Gomez has served in a variety of leadership roles in non-profit agencies, government, private businesses, and higher education. Positions such as: Volunteer Cottage Parent-Lutheran Social Services of the Virgin Islands, Territorial Director-VI Department of Health, Social Worker, Administrator, and an Assistant Commissioner within the Virgin Islands Department of Human Services have equipped her with deep operational knowledge and capabilities, as well as the compassion and relatable experience sometime lacking at the decision-making table.
Causey-Gomez has a proven record as an effective leader. Her astute insights and tenacity enable her to effectuate big changes needed to stabilize complex organizations. She is sought out for her ability to manage the efficient delivery of services to wide-ranging and diverse populations.
Ms. Causey-Gomez holds a Bachelor of Social Work with a focus on Family and Child Welfare and Micro-Practice and a Master of Social Work from Virginia Commonwealth University. She is an active member of the Rotary Club of St. Croix and a Dame of Malta. She is the blessed mother to Antonio, a United States Marine Corps Veteran and Gabriella, a college student attending Horry Georgetown Technical College in Conway, SC.